TIPS
A Comparison: iPhone vs. Android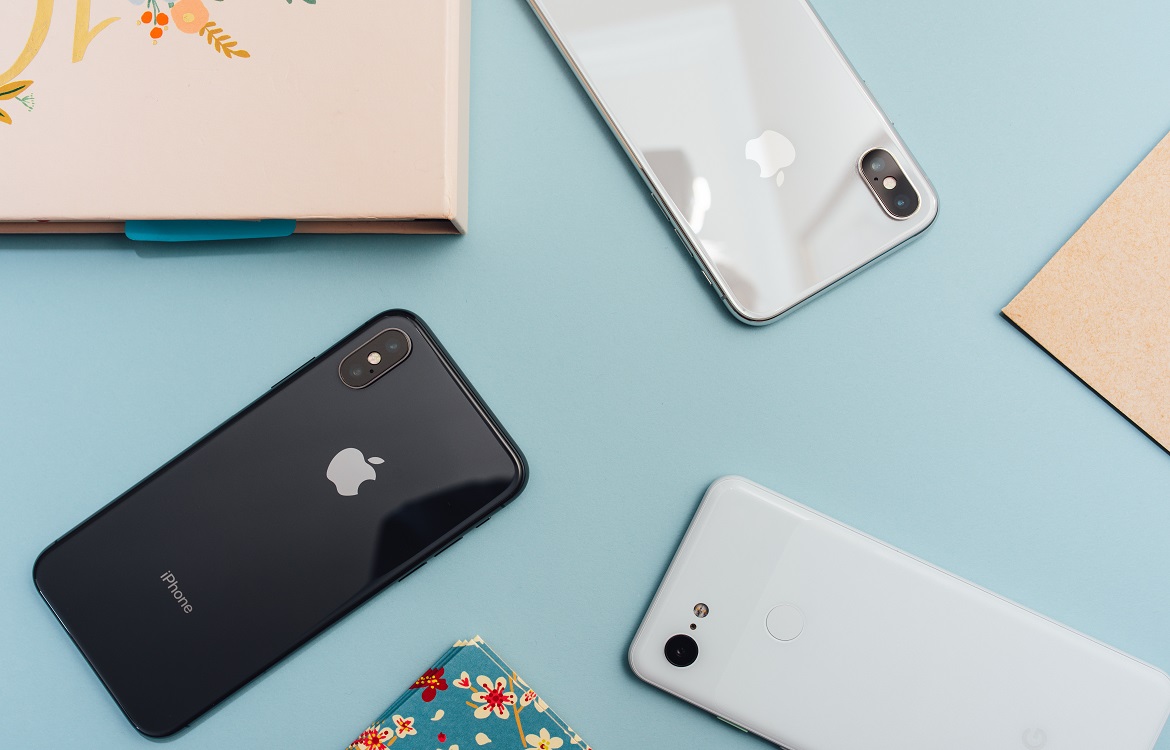 There are tons of smartphones on the market to choose from. But no matter which you pick, you can bet that it's likely running either iOS or Android — two of the leading mobile operating systems. Having existed for over a decade, Android and Apple are both well-known and highly developed, and there is little one platform can do that another cannot. So now you're probably wondering which is better: iPhone or Android. Trademore is here to break down the iPhone vs. Android debate and help you decide which would be best for you.
iPhone vs. Android: Hardware
With the iPhone, there's a specific set of options. Some phones, like the iPhone 7 and 8 (and their Plus counterparts), feature the traditional home button. The newer models, like the iPhone XR, X, XS and XS Max, have nixed the home button and opted for Face ID and swipe up instead.
In terms of hardware, Android runs on a wide variety of devices. From the OnePlus and Google Pixel, to the Samsung Galaxy and more, if you decide on Android, you're going to have quite a few manufacturers and models to choose from.
iPhone vs. Android: Features
As mentioned earlier, Android and iOS have similar capabilities; however, there are a few key differences.
Android is more customizable. If you want to change the default texting app or web browser, you have the ability to do so. You can add widgets to the home screen or go as far as change the entire look of the home screen with a launcher app.
The iPhone offers a more polished and secure experience—they don't always suffer slowdowns that Androids are sometimes prone to. As far as customizations go, you can change your lock screen and home screen backgrounds, move your apps around and arrange them how you like, but the personalization stops there.
iPhone vs Android: Apps
Most big-time apps can be found on both Androids and iPhones. However, many new apps (and updates) tend to appear on iOS first. Apps tend to be easier to develop for iOS devices because you know what every single device can do. For Android, since it's so diverse, certain apps have to be written to work with a variety of platforms.
Google Play Store provides access to over 2 million apps, with apps containing virus rare, but existing. Apple App Store features over 1 million apps and apps containing virus are very rare or nonexistent.
iPhone vs. Android: Storage
When it comes to internal storage—when you buy an iPhone—what you buy is what you get. For Android users, many devices have a microSD card slot, which allows you to expand the amount of internal storage available for apps, photos and movies.
Apple does offer an iCloud service to offload photos and videos but you don't have the ability to add local storage to any iPhone.
The Bottom Line: Which is better—Android or iPhone?
If you're invested in Apple and own a MacBook or iPad, an iPhone may be the best choice for you, as they work together seamlessly. For those who may have a Google Home, Chromecast or Chromebook, Android is the way to go.
There are many angles to look at when comparing iPhones and Androids—hardware, features, apps, customization options and more—and it all comes down to personal preference.
For more tips, tricks or how-to guides, be sure to visit the Trademore blog.
Trademore has no connections, affiliations, partnerships or sponsorship agreements with the companies, entities, services and/or products mentioned in this blog post. The opinions, thoughts, views and expressions made within this blog post are independently created by and attributable to Trademore authors and/or contributors.